Why Kenya revives push by African nations to ditch the dollar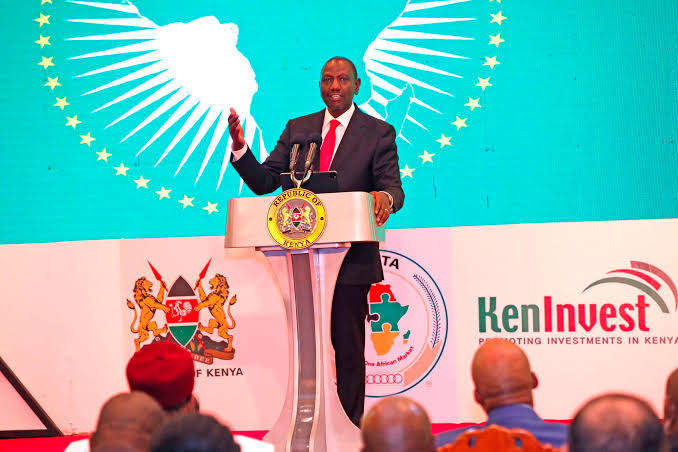 Kenya's President William Ruto has asked African leaders to take first steps towards ditching the globally-bullish US dollar by signing up to a pan-African payments system to facilitate trade within the continent.
Dr Ruto has urged his peers in Africa to mobilise central and commercial banks to join Pan-African Payments and Settlement System (PAPSS) which was launched in January 2022.
The system for intra-African trade was developed by African Export-Import Bank (Afreximbank) and African Continental Free Trade Area (AfCFTA) Secretariat. The initiative was backed by the African Union and African central banks.
"We are all struggling to make payments for goods and services from one country to another because of differences in currencies. And in the middle of all these, we are all subjected to a dollar environment," Dr Ruto told a forum of government and private sector officials attending a forum on AfCFTA in Nairobi on Monday.
"There has been a mechanism where all our traders can trade in the local currency and we leave it to the Afreximbank to settle all the payments. We do not have to look for dollars; our businessmen will concentrate on moving goods and services, and leave the arduous task of currencies to Afreximbank."
African traders and their local banks are using correspondent banks, usually in the US and Europe, to complete payments between two African currencies largely in dollars, and sometimes the Euro.
It takes about three to five days for the payment to get to the recipient's bank with charges at every stage.
Importers such as oil marketers and manufacturers have since last year complained of a gaping mismatch in demand and supply of the US dollars, prompting them to buy it in batches and levels way above the official rate.
The Kenya Association of Manufacturers, for example, last year said the dollar crunch strained relations with suppliers at a time competition for raw materials had intensified due to rising demand amid lingering supply chain constraints.
The unit has remained under sustained pressure from the US dollar due to higher demand than supply in a high-inflation environment that has seen investors shift their assets to safe haven.
This has seen the Kenyan currency shed about 12.1 percent of its value since the beginning of the year to exchange at about 138.33 units per dollar.
That has in turn pressured prices of key inputs such as fuel and raw materials for factories in a net import economy.
"I suggest that we have a mechanism where we can settle all our payments whether between our countries or externally using our [local] currencies. And we have a mechanism like the one that has been put up by the Afreximbank so that we don't have to be hostage to any one currency," Kenya's leader said.
"Without a single payment
platform, payment instructions from one African country to another typically passes through several intermediary financial institutions, leading to increased costs, complications, problems and unnecessary currency fluctuations and it ends up being a whole ecosystem of confusion."
Kenya suffered an acute shortage of fuel in what the oil marketers largely linked to delays in releasing cash for fuel subsidy creating cash flow challenges, while the government accused the firms of hoarding the commodity.
Earlier this month, the President said Kenya last year ran an artificial exchange rate market that caused a biting shortage of fuel, resulting in rationing of the essential commodity, contradicting the governor of the Central Bank of Kenya Patrick Njoroge.
"We discovered there wasn't a fuel [shortage] problem. It was a misdiagnosis. The problem was economic and much more a dollar problem.
There was fuel that had come, but the oil marketers could not find the dollars to go and buy because the government was maintaining an artificial rate," Dr Ruto told a media engagement session on May 14.