How To Succeed As A Young And Ambitious Artist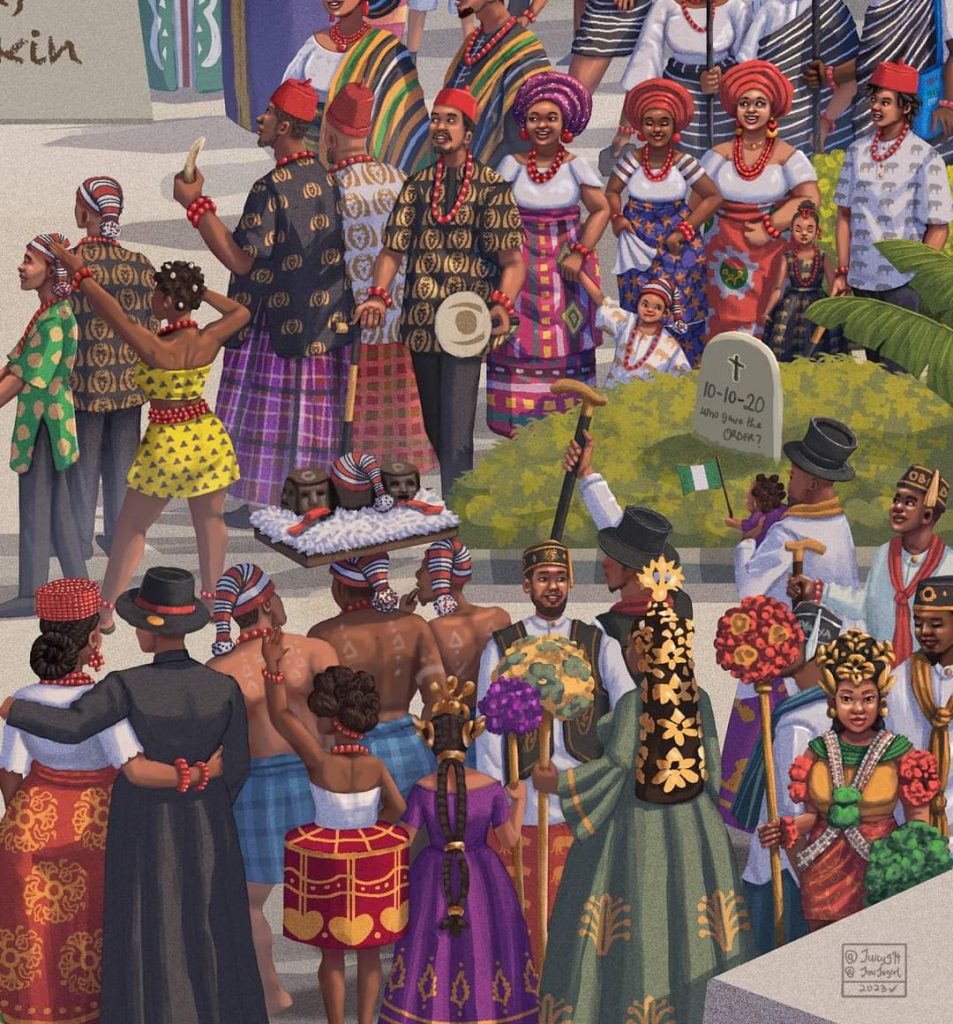 Meet Juliet Godwin, often known as juujugirl or afrojuicy on social media. She tells stories visually and uses digital illustrations. According to Juliet, she uses her imagination to create her artwork.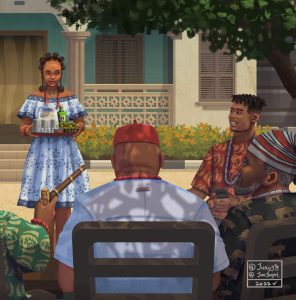 I am an imaginative person, so my art serves to convey my mental state, current thoughts, and expectations for the way the world should be. I enjoy bringing my imagination to life; it gives me a sense of happiness and fulfillment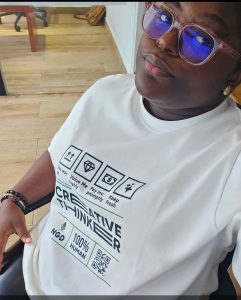 She was 
inspired 
to 
start 
her 
illustrations after
discovering 
that 
there 
aren't 
many digital 
illustrations 
that 
appeal 
to 
me 
as 
a 
Nigerian 
or 
African 
on 
the 
internet
. They are mostly foreign illustrations of various races – and the ones I do come across every now and then don't really give off the "slice of life" vibe. Most of the African illustrations I see do not represent me. It mostly depicts suffering, scars, poverty, jungle and poor environment."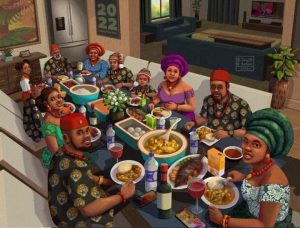 So in her art she always aims to show another side of life that people like me(Nigerians and Africans) can relate to, a depiction of the positive part of my people and culture – the beautiful and unique African style.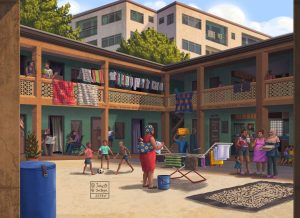 I also want to use my art to preserve historical information for future generations; this way, they can understand how life was during their ancestor's time."
I have been asked several times, Julie, why are your arts too culture-centric, Afro-centric, and Igbo-Centric?  Are you not being racist with your art? Well, I will tell you, many will not appreciate the things we are doing as creators today.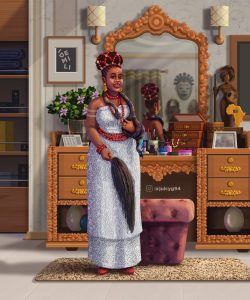 The reality is, that I'm creating or building artifacts on the Internet. I'm saving memories that will transcend the next 100 years when I'm no longer in existence; future generations of our offspring will use them. Growing up as an art lover each time I browse ancient paintings and classical arts, all I see are paintings that rarely or do not represent my culture, color, and heritage.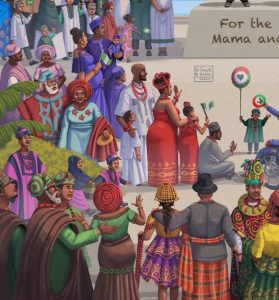 So in my leisure time, instead of doing art for exposure, I'd rather use the time to do something fun like painting my imagination or a scene in my dreams; sometimes some characters in my paintings are the physical manifestation of the ones I see in my dreams.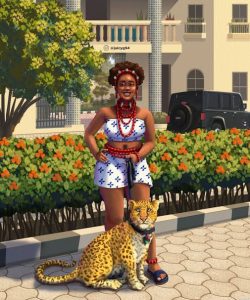 When writing that book, when making that art, when creating that project, always remember to be sincere. Whatever you are making today tends to positively or negatively affect the future, the same way we believe what we know today is a result of Information our ancestors recorded over time.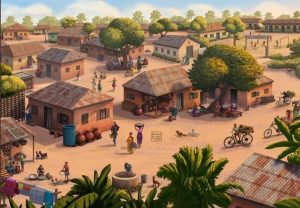 Today in Africa, we seem to have lost most things because our ancestors allowed strangers to write a book or story about us. Our ancestors allowed strangers to paint them more as slaves and servants in most of the ancient classical paintings.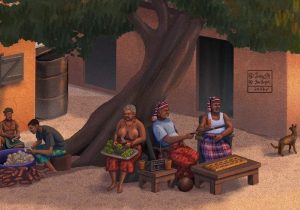 But some of our ancestors were smart, they saw the dangers ahead and that is why they chose the wall, They started dropping information on the wall, they started sculpting statues with woods and clay, and they even built a pyramid.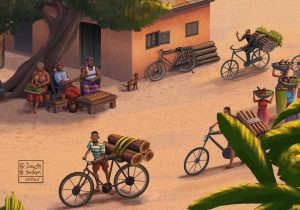 Now that technology has evolved, my goal is that in the future, our offspring will Google about their tribe and see artifacts that represent them in a classical way. They will make articles using my art as a reference. This is why I also make wealthy cultural paintings, the backgrounds must be relative.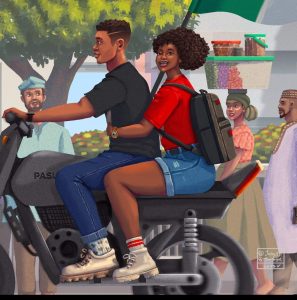 We are not living in a jungle we are not living inside a hut. I will not allow stereotypes and misconceptions of the information passed on to us by non-Africans to make me think African arts must depict living in a jungle.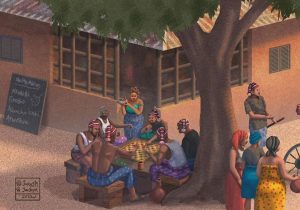 Till then, I will continue to be Afrocentric with my paintings, especially the personal ones.
How To Succeed As A Young And Ambitious Artist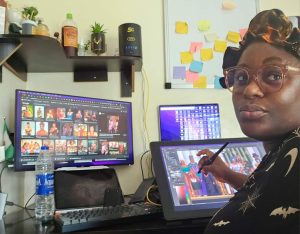 In an interview with 
otherfaces.tech
Juliet encourages young aspiring designers to seek out internships, regardless of their self-taught skills. It is crucial to face the real world, work as part of a team, and learn from experienced professionals. The lessons and insights gained during an internship are invaluable, teaching you the importance of teamwork, time management, and effective communication.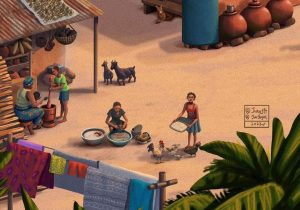 According to Juliet, she had a turning point in 2018, when she had the opportunity to embark on an internship in the industry. That experience turned out to be a turning point for me. As I worked with professionals and witnessed the inner workings of design agencies,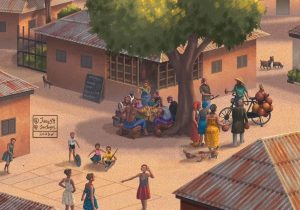 I was motivated by the creative energy and the potential to make a real impact. Seeing the projects they were involved in and the financial rewards they earned further solidified my determination.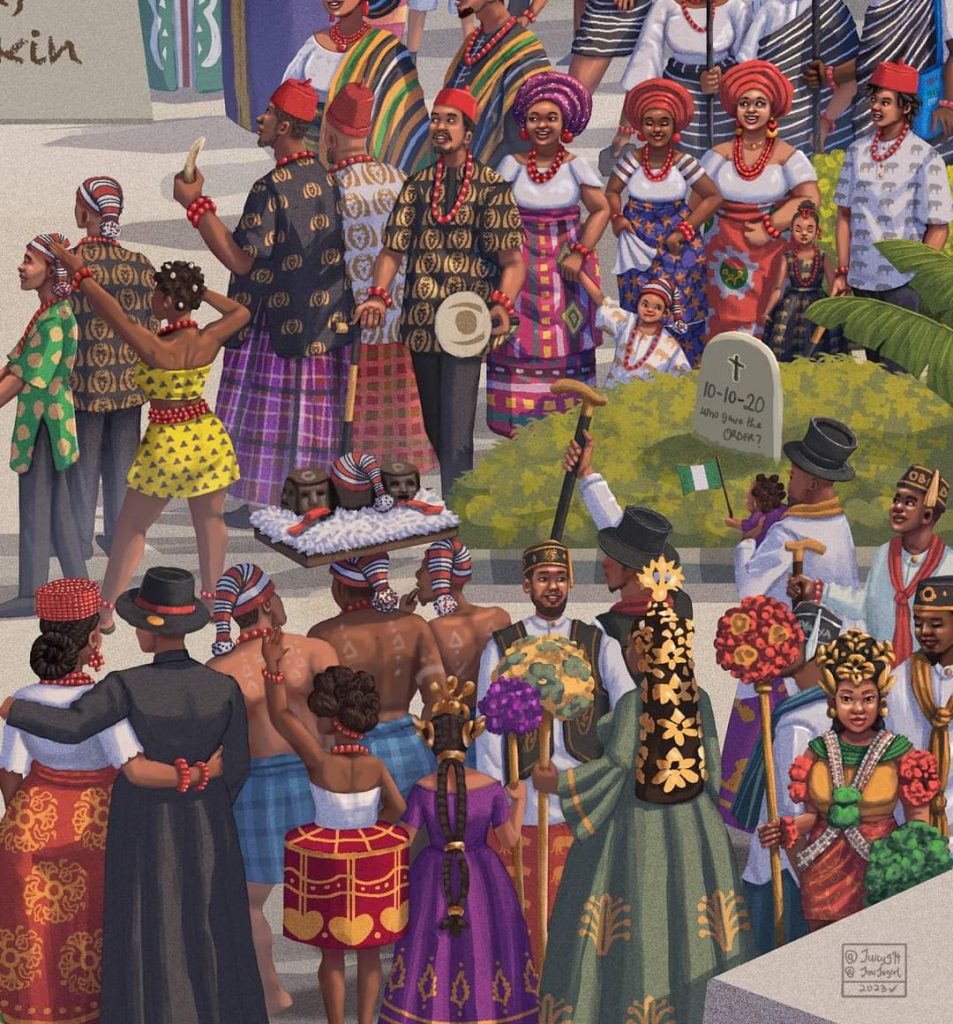 So, to all aspiring designers and artists out there, I urge you to consider internships as a crucial step in your journey. Embrace the opportunity to work alongside industry professionals, learn from their expertise, and develop important skills that go beyond what can be learned online. Internships provide real-world experiences, connections, and friendships that can shape your future and contribute to your success in the dynamic world of design.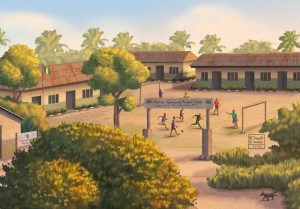 To her, internships are not just about the technical skills you acquire but also the opportunities for personal growth and networking. During my internships, I worked with various studios and companies, sometimes offering my services for free. I was willing to invest my time and effort to learn and grow, and this dedication made a significant impression on those I worked with.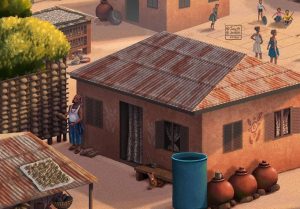 I was entrusted with responsibilities, and some studios even offered me full-time positions with attractive salaries. However, I chose to continue seeking new experiences and learning opportunities.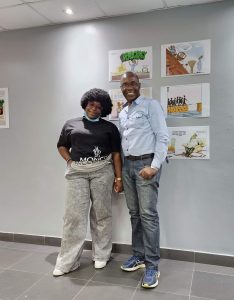 Today, I work as a freelancer, and I have the freedom to work from home. I have honed my skills as a creative director, completing tasks on time and collaborating effectively with clients and colleagues. I have come a long way from those early days when doubts and skepticism surrounded my choice of career.
Her artwork is made available in "print and framed" versions – on an order basis. This means that anyone shopping for my artwork has the option to purchase a reproduction of my original artwork in a high-quality printed format that is ready to hang or display."