Unleashing the Power of Youth and Innovation
Are you a young innovator passionate about using science and technology to solve Africa's challenges? Dreaming of unleashing the power of youth in science and innovation?
WHAT TO EXPECT
Hear from Bill Gates and gain valuable insights into the latest trends and cutting-edge innovations.
Showcasing success stories from pioneers in the field to inspire and motivate your innovation efforts.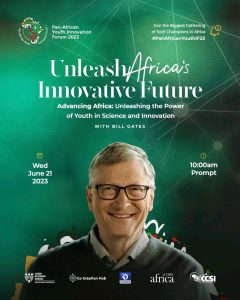 WHY ATTEND
Accelerate your innovation journey and expand your knowledge.
Get inspired by success stories and contribute to shaping Africa's future through innovation and creativity.
This is your chance to be part of a groundbreaking event that will shape Africa's future.
Limited spots are available: Register now to secure your place at the forefront of Africa's innovation revolution.
Registration Link— https://events.africa.com
Visit our Youtube channel https://www.youtube.com/watch?v=GVrS6_g9C4g